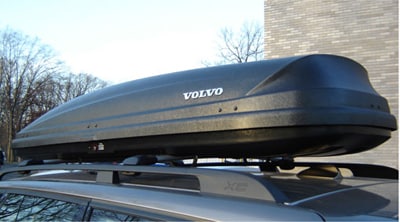 Furniture?
Bikes?
Suitcases?
Camping equipment?
Admit it, you can't help but wonder. In our Mooer's Volvo Youtube Channel video,
"Roof Boxes"
,
you will see that no matter what you carry, Volvo's Atlantis or Euro Weekender Roof Boxes should meet all of your cargo transportation needs.
The Volvo Atlantis Roof Box opens from either side of the car, is 91 inches long and sports an aerodynamic look. So, within its 17 cubic-foot capacity, you can stuff everything from a set of golf clubs to disassembled bicycles to Christmas presents, safely and snugly.
Next, the Volvo Euro Weekender Roof Box is featured. It's a little smaller at 69 inches (32"W x 14"L) and just as practical. Along with its dual-opening system and industrial-strength springs, the Euro Weekender Roof Box transports up to 110 pounds (lbs.) and will carry smaller luggage, crates, boxes, Little League bats and equipment and probably any other similar item that you need to carry.
Of course, both boxes are a sturdy as oak tree trunks and travel well attached to the Volvo roof rails as you're driving to the local flea market or across the country. These roof boxes are dependable, attractive, reasonably-priced and can be found at your local Mooer's Volvo Richmond or Mooer's Volvo Midlothian.
So, let other motorists play the "I-wonder-what-they-have-in-their-roof-box-game" when they see you pass them on the highway. They may even figure it out. All you have to know is that your cargo is safe every mile of your trip and that's all that matters, anyway.