As this is being written, it is currently about 60 degrees outside. However, within the last month, the temperature has gone from below freezing to above in fairly rapid succession. And, with that, has come the potholes.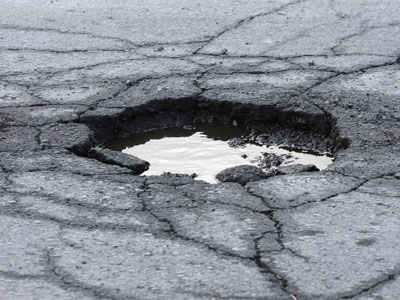 The basic way a pothole is formed starts with water. In the Midlothian, Virginia area, we've seen plenty of precipitation this winter; even more to the south in Colonial Heights and Chesterfield County in some instances.
This water seeps into cracks in the paved surface; usually starting with cracks to hard to see from behind your steering wheel. From there, it freezes and expands. Since the pavement can only expand and contract but so much, usually, the crack starts to expand to give the frozen water (ice) space. This crack stays expanded once the ice thaws.
With an expanded crack, more water can make it in the next time around. After a point, enough water may make it in to either make the crack extremely large, or actually seep underneath the paved surface and form a pocket in the roadbed. In either case, all it takes is the weight of traffic, and ultimately, a pothole has formed.
Now why is it useful to know all of this, you may wonder?
Two reasons: 1, it's good to be aware of potential road hazards and when they may occur; which leads to reason 2: for every pothole you accidentally drive over, the more likely it is that your vehicle will become out of alignment.
Alignment is extremely important when considering what goes into maintaining your Volvo, or any other vehicle you may own. Among the reasons why is that a properly aligned vehicle will have longer tire life, higher fuel economy, and be easier to handle.
Alignments are easiest done by a professional technician, preferably one that is trained to work on your vehicle. Our technicians are all professionally trained to work with your Volvo, and many have also been trained to work with other makes and models.We have special equipment that shows us exactly what needs to be adjusted so that your Volvo is properly aligned.
With the thought of serving you, we have a special running on alignments for the month of February,
click here
to learn more. If you would rather call us, please dial (804) 594-3500 and ask for service, or stop by at 11960 Midlothian Turnpike!