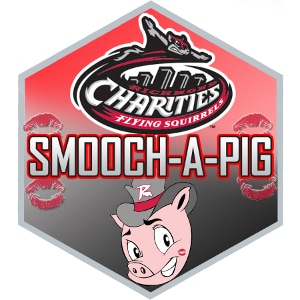 As you may know, Smooch-A-Pig is a charitable promotion of the Richmond Flying Squirrels where 10 different leaders in the community are all trying to raise the most funds towards the goal of revitalizing several youth baseball fields in Richmond. The winner will have the chance to kiss Parker the Rally Pig at home plate before a game in July, which, as of today, is officially less than one month away: July 17th!
TEAMbarryMOORE
has stayed active through the competition, hosting and joining several FUNN community events. This has included concerts by Erica Sunshine Lee, a hotdog throw-down, a dress-down day, a concert from Redneck Pool Party, and Celebrity Big Gloves Boxing - but it's what coming down to the wire, and
we need your help
!
At this point, we have a few events left - Thursday, June 19th, at Thirst & Fifth Gastropub inside of the Hilton Garden Inn Downtown, the Righteous Outlaws will be performing from 5 - 7pm. Come out and watch a cool show
while supporting us
!
On July 10th, we have our Three Bar Rock-Off, where bands from Mekong Restaurant, City Dogs, and Thirst & Fifth Gastropub will be going head to head to raise the most donations while performing at The Speakeasy in Jackson Ward!
Also, Tony Pham is helping us host a shooting competition, the Smooch-A-Pig Shootout for TEAMbarryMOORE, on July 12th at the Richmond Police Academy range. If you, or your friend, has a legal handgun and is interested in forming a team to compete, contact Tony at tonyhpham@hotmail.com to find out more and to register.
Of course, these are events we know of - there's always a chance that more FUNN may be had - so, go NUTZ, and
donate for TEAMbarryMOORE here
!