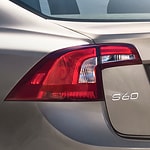 Volvo has an amazing sedan that's on the market today. This automobile is known as the Volvo S60, and it's loaded with many advancements. The Volvo S60 is a luxury sedan that embodies performance. There are four available trims to choose from, including the Momentum, Inscription, Polestar Engineered, and R-Design. Its interior cabin has seating for five people, and leather upholstery is available.
On the performance side of things, the Volvo S60 is a beast. Its dual-integrated tailpipes will create an aggressive roar while on the highway. The car's dynamic chassis provides good flexibility while remaining comfortable. Depending on the actual powertrain, this luxury sedan will produce between 250 to 316 horsepower. In addition to that, this car has a long, lean frame that sits low to the ground. You won't have a problem with handling as it stays stuck to the road at all times.
Hit us up today for more information, and we may throw in a test drive.