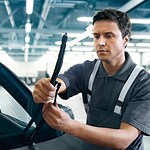 Intact, working windshield wiper blades are the best way to maintain healthy visibility when you're on the road. Wiper blades come to the aid of drivers year-round, in all kinds of weather. As a result, they take a beating. That's why you should plan to replace your windshield wiper blades on a regular basis.
When to Replace Windshield Wiper Blades
The specialists on our Volvo Cars Midlothian service department team advise replacing your windshield wiper blades at least once a year, every six months, before or after major seasonal changes, or whenever you're due for an oil change or routine maintenance.
How to Spot Bad Wiper Blades
Even if it's been less than six months, your wiper blades can still malfunction. Factors like moisture, UV light, debris, car wax oils and high heat/cold make wiper blades prone to brittleness, breakage and splitting. Brittle, broken or split wiper blades reduce visibility by streaking your windshield.
Have your windshield wiper blades checked and replace today during a service appointment at our Midlothian dealership.