2022 Volvo C40: Release Date, Interior, Electric Range, And More

When the Volvo C40 Recharge release date finally comes to pass, you can be one of the first to hit the road by reserving this new electric vehicle at our dealership. After her refreshed design drops in the upcoming months, she will redefine the luxury SUV segment. Our vehicle experts are excited about this new Volvo electric vehicle and her innovative features. We can't wait to welcome you into our showroom to see her in person.
Dive Deeper Into the 2022 Volvo C40 Recharge Dimensions & Features
---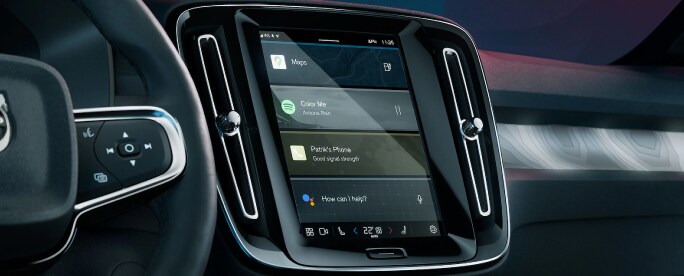 Elegance is the name of the game when you take home this new model following the Volvo C40 Recharge release date. Her dynamic design gives you infinite opportunities to create the vehicle of your dreams, all without using harmful fossil fuels. Multiple trim levels, countless cutting-edge features, and a full suite of advanced safety technologies make this SUV feel like a gift from the future.
A new Google operating system is expected to appear in this model. You'll be able to pull up navigation directions, topographical maps, playlists, and podcasts on the touch-screen infotainment system without ever having to take your hands off of the wheel. Keep your focus where it's needed and enjoy adaptive LED headlights that are as attentive to your surroundings as you are.
Wondering what the Volvo C40 electric range will be? We are too. However, our experts believe that the upcoming Volvo C40 Recharge will have a platform similar to the Volvo XC40 Recharge, a compact SUV that charges rapidly inside your own home.
If you want to be one of the first on the road with this new, high-end Volvo electric SUV model, reach out to our Volvo Cars showroom. Our team of vehicle experts will let you know the moment the Volvo C40 Recharge release date and 2022 Volvo S60 release date emerge.

The Volvo C40 Recharge Interior Makes for a Regal Ride
Though we're still unsure of this jet-setting SUV's release date, it's already tough to find a Volvo C40 Recharge review that doesn't gush over her interior. Slide into leather-free seats that are as soft as silk. Several trim options give you different palettes to choose from as you decide on a color scheme for the materials surrounding your digital cockpit and functional storage spaces. Customize her design to fit your aesthetic as innovative features keep you connected to the world around you.
While some SUVs tend to be cozy, you'll be able to stretch your legs in this electric model. We'd recommend every SUV owner see her roomy interior after the Volvo C40 Recharge release date arrives. There will be space for every passenger to relax no matter where they're sitting in the vehicle.
Interested in how one of our high-ranking electric SUVs with similar features to the new 2022 Volvo C40 Recharge compares to other models in her class? This Volvo XC40 electric comparison showcases the prowess of Volvo vehicles in the luxury marketplace.
FAQ About the Volvo C40 Recharge Release Date
As the Volvo C40 Recharge release date approaches, we're receiving plenty of questions about this groundbreaking SUV model in our showroom. Here are some of the questions our vehicle experts hear from drivers just like you.
What's the electric range on a Volvo C40?
The complete electric range on the new Volvo C40 is unknown. However, the Volvo Cars lineup has available options with an all-electric driving mode. You can cruise around the neighborhood on all-electric power and complete all your tasks without using a single drop of fossil fuel.
What's the difference between the Volvo XC40 and Volvo C40 electric?
The new release of the Volvo C40 Recharge is a huge step forward for a company that aims to be environmentally neutral across the entire manufacturing and production process by 2040. As charging stations continue to emerge, more drivers are deciding to buy or lease cars that are less reliant on gasoline. The Volvo C40 Recharge SUV is the first of her kind, whereas the Volvo XC40 Recharge SUV has exemplified the fuel-efficient and sustainable future that this brand's designers have been working toward.
Should I buy a Volvo C40?
We're waiting for the official Volvo C40 electric price to be released, but we can already tell you that she has class. Inside and out, from front to back, you can see that the designers took their time and nailed every detail in this luxury SUV. She's gracious, not gaudy, smooth without being snobby, and has plenty of power to give.
Reserve Your Next Hybrid Before the Volvo C40 Recharge Release Date
Inquire about the Volvo C40 Recharge release date, and you'll be the first to know when she's on her way to our dealership. Get in line before this car announces her arrival and put yourself in a vehicle that will exceed you and your family's expectations.
Our team will clue you in to the Volvo C40 electric price as soon as we have the official figures. If you have any questions, our Volvo-lineup geniuses are the people you should be asking.
Visit our dealership today and explore our competitive inventory ahead of the Volvo C40 Recharge release date. Put your safety first when you buy a model off our lot. As soon as you sit down in a new 2022 Volvo C40 for sale, you'll understand her promise and ability to keep you comfortable, in control, and out of harm's way.