Volvo C40 vs. Volkswagen ID.4: All-Electric Showdown

You can't go wrong when you narrow down your electric SUV choices to the Volkswagen ID.4 vs. Volvo C40. This new Volvo design is ready to slide silently to the top of the rankings next to our other Volvo models, but how does she compare to the VW ID.4? Read on to learn more.
Create Your New Cabin: The Volkswagen ID.4 vs. Volvo C40 Interior
Comfort is king when you explore the cabins of the Volkswagen ID.4 vs. Volvo C40 SUV models. The spacious dimensions inside this new Volvo SUV will give all five of your passengers plenty of room to stretch, no matter where they sit. Riders of any size will love how much personal space they have to themselves inside an envelope-pushing electric SUV.
The infotainment system in the Volvo C40 will automatically connect to your smartphone so you can control your playlists and podcasts without taking your hands off the wheel. The days of fumbling for your phone in your pocket to play your favorite song are over, especially with Google built in, which the VW ID.4 doesn't provide.
If you need more room for all your belongings before a big vacation or after a trip to the grocery store, both the Volkswagen ID.4 vs. Volvo C40 cargo spaces are extensive. These SUV models have transformable seating setups that can easily adjust to give you more room. They allow you to stack suitcases, pile on golf club sets, and head home with enough plants from the nursery to fill your yard.
The cabins inside the 2022 Volvo C40 vs. 2021 Volkswagen ID.4 are full of premium, comfortable materials, but the Volvo model focuses on sustainability by choosing leather-free upholstery. These two automakers may be committed to ridding the SUV segment of fossil fuels, but the forward-thinking design of the Volvo model sets a new standard for luxury.
You could be one of the first to drive around in a high-end model following the 2022 Volvo C40 release date when you give our showroom a call or reach out to us through the navigation menu on our website.
Go the Distance With the Volvo C40 vs. Volkswagen ID.4 Electric Range
When you look at the Volvo C40 vs. Volkswagen ID.4 range, you'll find a fully charged Volvo C40 battery gives you a WLTP-projected range of up to 261 miles1 in mixed driving. On the other hand, when you compare the Volkswagen ID.4, its range is slightly lower, with an EPA-estimated range of 260 miles.2
Quick charging times are another EV element that these cars are likely to share. We expect you can wash and fold a load of laundry as your SUV charges to full in both the 2022 Volvo C40 vs. 2021 Volkswagen ID.4 SUV models.
If you're looking for a fully capable SUV with plenty of battery to take you around your neighborhood, you'll find that our selection of Volvo C40 models will fit the bill. This brand's company-wide commitment to safety is evident when browsing our inventory.
Volvo Cars plans to be a climate-neutral company by 2040 by updating and producing designs that reflect that goal. Your next car awaits at Volvo Cars Midlothian, where we have a plethora of spacious models that families enjoy, like the new Volvo C40 for sale. Visit us to decide what you'll be driving down the road today.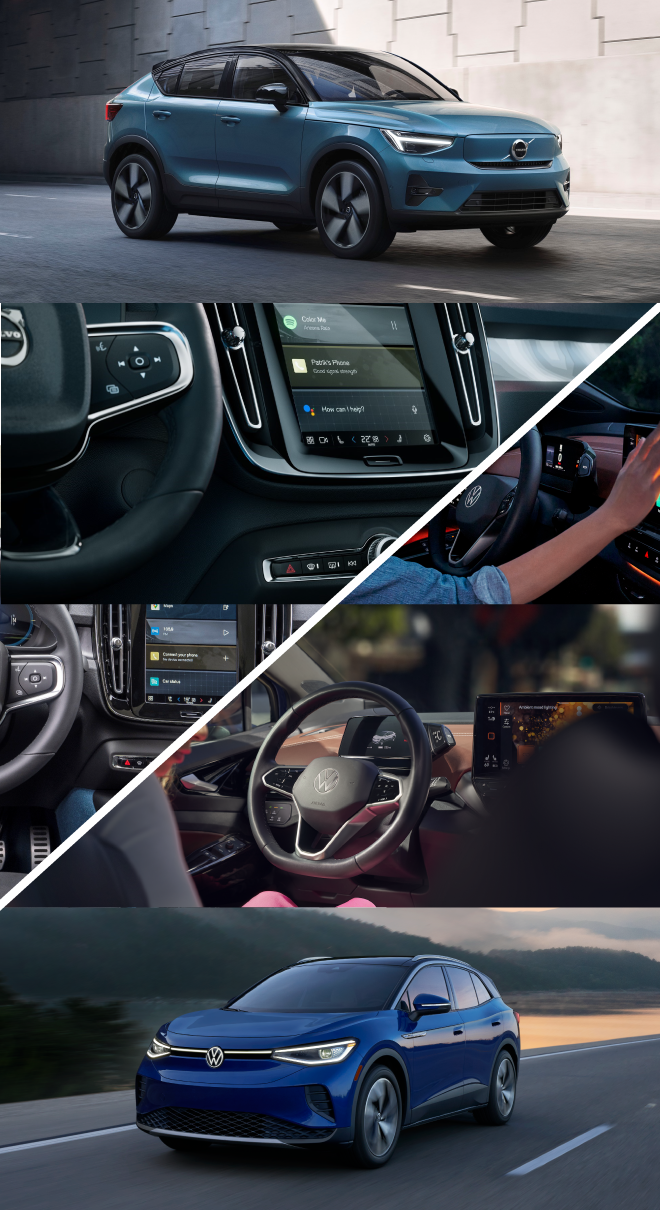 2022 Volvo C40
Starting Price, base:
$58,570 MSRP1
Estimated range:
261 miles3
Drivetrain:
AWD
Seats:
5
Length:
174.4 in.
Width (without mirrors):
72.8 in.
Cargo space:
14.5 cu. ft.
Interior benefits:

Keyless Ignition
Adaptive Cruise Control
Power Sunroof
Harman/Kardon Premium Sound
USB With External Media Control
Interior Air Filtration
Dual Zone Front Climate Control
Hands-Free Entry

Learn More:
Reserve Your Volvo C40
2021 Volkswagen ID.4
Starting Price, base:
$48,175 MSRP2
Estimated range:
260 miles4
Drivetrain:
AWD
Seats:
5
Length:
180.5 in.
Width (without mirrors):
72.9 in.
Cargo space:
30.3 cu. ft.
Interior benefits:

Bluetooth & Navigation
Adaptive Cruise Control
Power Sunroof
Hands-Free Entry
3 Months of Satellite Radio Service
AM/FM Stereo
Dual Zone Front Climate Control
Hands-Free Entry
Frequently Asked Questions About Our Volkswagen ID.4 vs. Volvo C40 SUVs
The release of the new Volvo compact SUV model is upon us, and we're getting several questions inside our showroom comparing the Volkswagen ID.4 vs. Volvo C40. We have high hopes for the future of the Volvo C40 as she faces off against other fuel-efficient, environmentally conscious SUVs. Read ahead to learn more.
Which is quieter, the Volvo C40 or VW ID.4?
New electric vehicle drivers always note how quiet the cabin is inside our Volvo models. Regardless of whether they incorporate hybrid or pure-electric technology, their designs are leaders when it comes to locking out noise. Look into our full fleet of noise-canceling Volvo vehicles if you desire a bit of peace and quiet. How does this compare to the VW ID.4? We bet the Volvo C40 will win this battle, but you'll have to decide for yourself.
Even when pressing down on the pedal for instant acceleration, electric vehicles neglect to make as much noise as traditional setups. They also conserve energy when braking for optimal sustainability. However, just because new electric or hybrid models don't roar like your old muscle car doesn't mean they lack in the speed department.
Which is bigger, the VW ID.4 or Volvo C40?
The Volvo C40 is slightly smaller in terms of length, width, and height than the VW ID.4. However, this model can't compete with the extra storage space provided by the front trunk of the Volvo C40 that allows you to store your items out of sight and out of mind.
The Volvo C40 SUV is also known for her cut-off roof. This car has a lower profile than many SUV models, including the Volkswagen ID.4, and is sleeker than the existing Volvo XC40 Recharge model. This car is entirely different from other eco-friendly options that seat five passengers from a design standpoint.
Which is more reliable, the Volvo C40 or VW ID.4?
Reliability is the hallmark of the Volvo vehicle lineup, and every year, Volvo releases receive praise for their durability from trusted automotive experts. When it comes to the VW ID.4, its longevity is already debatable as Consumer Reports deems it much less reliable than your average new car, since it has already been recalled four times since its release.
Only time will tell, but our bets are on the Volvo C40 because of this company's proven track record of reliability.
Compare the Volkswagen ID.4 vs. Volvo C40 at Our Dealership
We can't wait to see you at our dealership and show you why the Volvo C40 is the clear winner in the Volkswagen ID.4 vs. Volvo C40 debate. While you're here, we can also introduce you to another new member in our lineup, as the 2022 Volvo S60 release date has finally arrived.
Trusted voices in the automotive industry are raving about the emergence of the ambitious Volvo C40 as she pairs a unique style with an exciting engine and battery platform. Fortune favors the bold, and we know the odds are in your favor when you choose from her seven vibrant exterior colors.
We look forward to helping you explore the benefits of a Volvo C40 as you take your next family trip to the next level. Her futuristic design makes going places safe, fun, and easy. Our team will do everything we can to ensure you're getting the car you want, your way, when you decide to shop with us at Volvo Cars Midlothian.
---
1Prices shown are Manufacturer's Suggested Retail Price (MSRP), Base Price or Starting At price and excludes destination fees, taxes, title, license, and registration and/or electronic filing fees, dealer fees.
2All prices shown are the U.S. Manufacturer's Suggested Retail Price ("MSRP") and do not include extra costs, such as, but not limited to, taxes, dealer charges, registration, and transportation. For specific product availability and program information, please visit your local authorized Volkswagen dealer.
3 The figures are based on WLTP data obtained under specific testing conditions. The real-life driving range and energy consumption achieved under real conditions varies depending on driving behavior and other external factors. Figures are preliminary, final vehicle certification pending.
42021 ID.4 Pro EPA estimated total range is 260 miles. Actual mileage and range will vary and depend on several factors including driving and charging habits, accessory use, temperature and topography, battery age, load, and vehicle condition. Battery capacity decreases with time and use. See owner's manual for details.